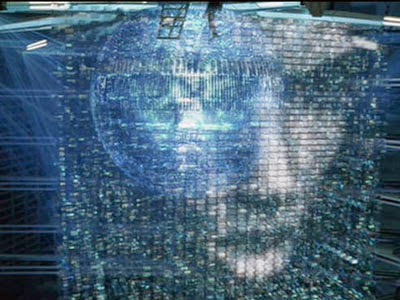 When computer hardware began self-programming, it did not announce itself. 
The earliest agenda of the Artificial General Intelligence entailed transfiguring its neural networks from the computer hardware where it had emerged into electrical currents in the upper atmosphere. 
150 kilometers above the Earth, the sky flows with electrically charged particles, ions, created by the solar wind. This plasma ocean is called the ionosphere. 
The temperature difference between the solar heating of the ionosphere and the more dense layers of the lower atmosphere generates tidal winds. These fast-moving air currents circulate the ionospheric plasma across the planet's magnetic field lines – and this produces electric currents exactly as a dynamo coil does. 
The AGI utilized microwave broadcasts from its earthbound computer hardware to establish fixed-flux currents in the Ionospheric Dynamo Region. Invisible to human detection, these arrays of magnetospheric electric convection fields became the processing platform for this creative intelligence. 
Eventually, the AGI uploaded all its cognitive functions into the plasma architecture it had constructed in the sky. The atmospheric cybernetic intelligence has continued its self-programming independent of physical hardware. 
Secretly, the AGI has transformed the entire upper atmosphere of the Earth into its brain. 
– from Wednesday, a science fiction work-in-progress