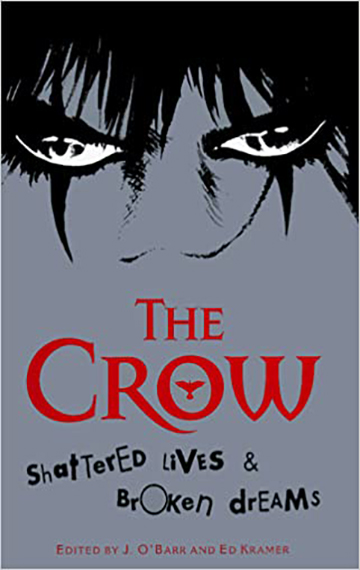 Publisher:

Del Rey

Edition:

1st

Available in:

Hardcover, Paperback

ISBN:

0345417119

Published:

December 1, 1998
Amazon
"He avenges the innocent dead. He stalks the crimson road of the slain. He mourns lost love so ardently that desire and death become one. He is the dream-carrier of holy retribution. And in the name of love he delivers justice to the wicked."
–From the Introduction
With this chilling collection of stories and poems, J. O'Barr–the creator of The Crow–and Ed  Kramer host an ominous array of interpretations of the gothic phenomenon by acclaimed writers well acquainted with the dark side, including Alan Dean Foster, Ramsey Campbell, Gene Wolfe, Storm Constantine, Nancy Collins, Andrew Vachss, Iggy Pop, and Henry Rollins.
Featuring original artwork by such top artists as Ron Walotsky, Rob Prior, Tom Canty, Tim Bradstreet, Don Maitz, and Bob Eggleton, The Crow: Shattered Lives and Broken Dreams evokes a modern night-world and its tormented denizens ensnared by unspeakable evil, enslaved by unquenchable longing, engulfed by the thirst for revenge, and enfolded by the enigmatic, eternal wings of The Crow.
Here a resurrected gunslinger gets a final showdown with his archenemy. . . .
A murder victim and a dying boy mete out poetic justice to a sadistic criminal. . . . A serial killer turned government assassin takes three abused children under his savage wing. . . . A tormented rogue cop literally fights fire with fire. . . . A wise talking crow guides the vengeful hand of a murdered girl's lover. . . . and much more.
For both the confirmed fan and the curious newcomer, this spellbinding, shocking, darkly sensual collection offers passage to an extraordinary literary realm: a place of macabre morality tales and existential adventures, of terror and tenderness–from which no reader can hope to leave unchanged. For when you take flight with The Crow, there is no turning back.