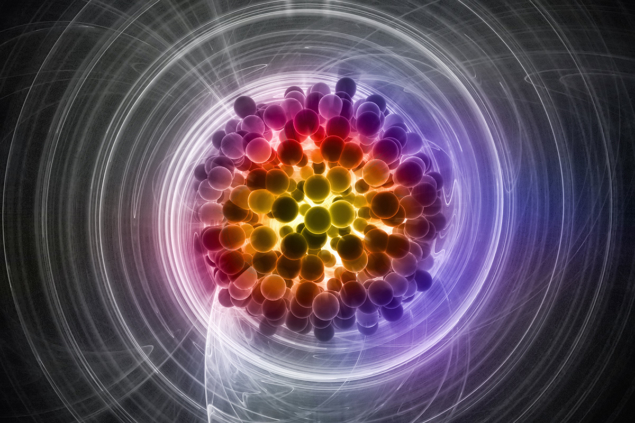 At the center of every atom, energy of imponderable intensity rages. This is the chromodynamic binding force of gluons, which holds quarks together inside an atomic nucleus. It is a furious fire that has been burning since time began.
I say 'furious' because 99% of the mass in the atomic nucleus consists of this chaotic frenzy of gluons. Their tremendous energy pulls virtual particles out of the vacuum every billionth of a second and accelerates them to near the speed of light. That's where the mass originates.
The constant flux of particle|antiparticle pairs coming and going at relativistic speeds not only boosts mass, it also makes time move a lot slower inside atoms. This creates an effect within the nucleus that physicists call "the sea." Numberless particles moving at almost luminal speeds fill one of the tiniest places in the universe with a turbulent sea of churning interactions.
Out of the fiery kinetics inside the nucleus, charge emerges. The delirious energy of gluons produces the force that arranges electrons like Byzantine halos around the nucleus. Those halos make chemistry. And chemistry makes us.
On the pathing river of time, life arrived here, as sapiens. Our uniquely mathematical mind imagines our place in the cosmos as a predictable science. Yet… Inside the nuclei of the atoms that have come together to read these words, we meet the end of our dreaming.