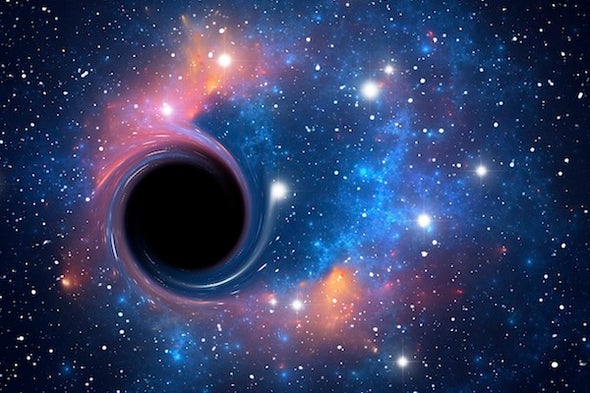 Did you know that black holes are expanding at the speed of light? Every point on the spherical surface of a black hole is a ray of light suspended, motionless, because the boundary, the event horizon, is already moving outward at the speed of light. Gravity and the curvature of spacetime keep it from expanding.
Have you heard of particles that have zero energy? When a particle of energy crosses the event horizon of a black hole, the mass falls in and the momentum stays behind as a zero-energy particle, like a photon, which is a particle that has no rest mass and plenty of momentum. But this kind of photon is special, because it's located on the surface of a black hole.
Energy is inversely proportional to wavelength; so, zero-energy particles have an infinite wavelength, big as the entire universe. These zero-energy particles on the black hole's surface extend all the way to the boundary of the cosmos. And that's how news about the particles that fell into a black hole reaches the edge of the universe and escapes destruction. The process is called supertranslation.
It's science fiction, invented by theoretical physicists whose hearts are broken by the idea that reality may not be deterministic, that information could be lost, that the laws of physics are not really laws. It's like the metaphysics of night, where the underside of dreams connects us to the furthest reaches of the psyche with secret news of our day. Or it's like animal souls, something holy on the far side of the human world. You know, stuff that can never be directly relevant for describing the real world but that promises a meaning spread over the whole universe.