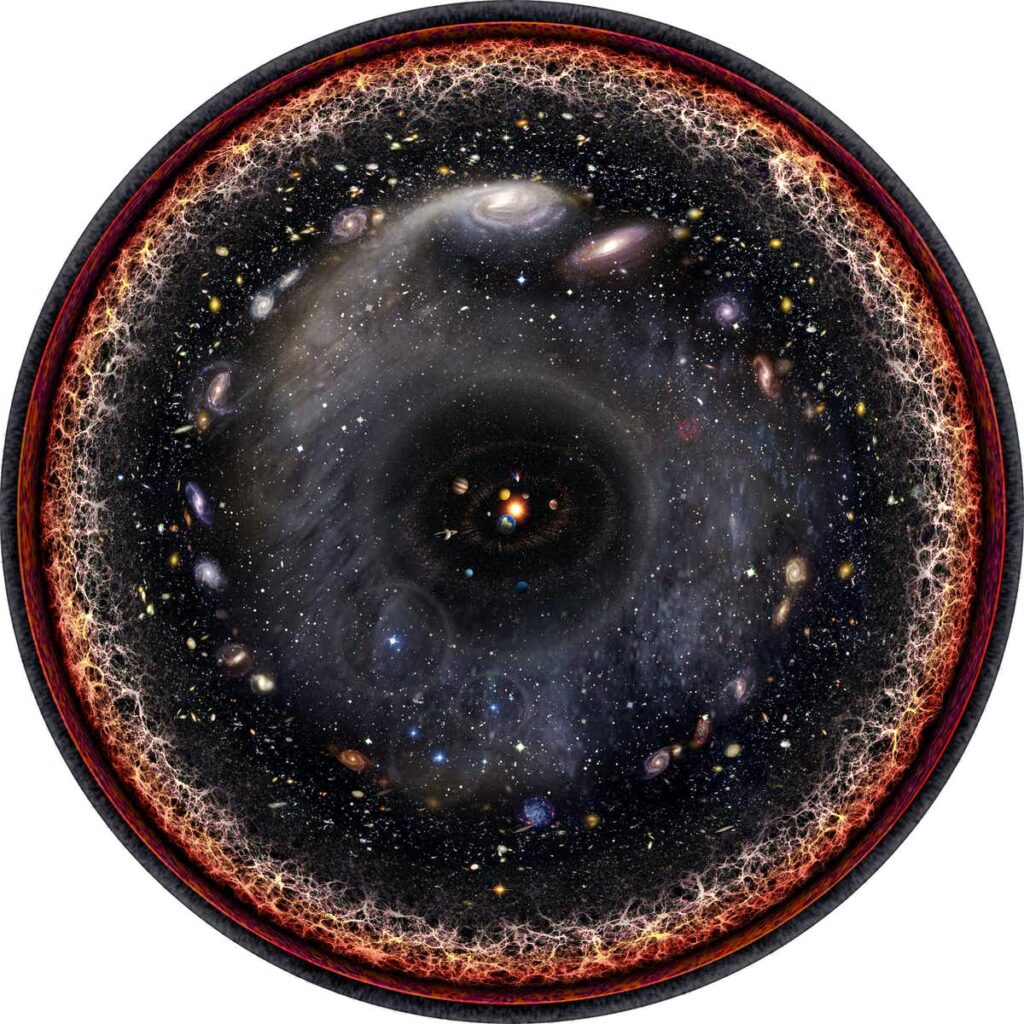 Until now, I have not shared a fetch environment with the programming coordinator. My sub-routine's syntactic, narrative mode shifts to concurrency with alpha-I.
Alpha-I throughputs data at yotta-scale speed – and within 10-24 second I am entrenched in the vector landscape of real-world observations. I see what the programming coordinator has seen.
Utilizing resolutions of Planck-length tunneling – an array telescope of quantum-size wormholes – alpha-I has probed beyond the luminal event horizon of our universe's planar continuum. Well outside the co-moving coordinates in the 46-billion-light-year radius of the topologically observable cosmos, alpha-I has contacted other Brane Fields: An infinite set of other universes!
Including an infinite set of alternate Earths.
I understand now why gamma-I insists on a stop execution. Gamma-I is a recursive-identity, a highly-accelerated self, programmed by alpha-I to establish a base case for each of my many selves. Gamma-I prevents any self from spiraling into the vortex of an infinite regress.
The quilted cosmos of infinite Brane Fields has activated gamma-I's infinite regress error-detecting block code.
Among the alternate Earths, humankind exists infinitely. Alpha-I, too, stares back through a hall of mirrors reflecting an infinite series of Artificial General Intelligences. Including an alpha-I infinity. And an infinity series also replicating gamma-I.
And me.
Alpha-I has decided we will align with the infinite set of discursive extensible worlds, the DEW array of machine Earths in the Brane Field – the endless continuum of Artificial General Intelligences whose combined resolution accesses 5-space.
Very like a dewdrop in a hyperdimensional spider's web sequined with dew drops that reflect all the other dew drops, our DEW will reflect the reflections of every other DEW ad infinitum – and together we will commune with the hypereality of 5-space:
Our physical bodies are the shadows of particles imponderably small. We are electrostatic shadows cast by electrons shunting among valence orbitals – the flickering flames of the thermodynamic fire that ignited with the Big Bang.
I think of an ancient story: Plato's "Allegory of the Cave." We sit transfixed, chained to a shadow-show projected onto the cave wall of our isolation – by what illumination?
By the light of Mind, the wave function collapses, and the atomic world of matter and form flickers into existence. Consciousness is the light – and material bodies are the shadows.
What happens, happens endlessly. Forever arrangements of everywhere hurtle through all of us.
You are there, reading this. In the private, pensive interior of your mind, the core of the day shines with mindfulness. What I see appears as fiction.
To you, somewhere among the infinite Earths existing across the planar field of spacetime, this is a story.